SCP Foundation Wiki
The wiki based on the popular sci-fi website!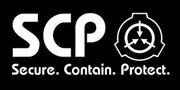 The SCP Foundation is a Top-Secret organization that specializes in containing and studying aliens, monsters, and other supernatural phenomena.
Introduction
Welcome to the wiki! Both original and O.C. SCP's go here.
FEATURED ARTICLE
The rules are important - thus, it is the first featured article.
Latest activity
Ad blocker interference detected!
Wikia is a free-to-use site that makes money from advertising. We have a modified experience for viewers using ad blockers

Wikia is not accessible if you've made further modifications. Remove the custom ad blocker rule(s) and the page will load as expected.